There is music for everyone and every music style is unique. That's why I don't have any style preferences, I like difference. Wants drive - listen to metal, to relax - ambient, new age or lounge, to get into the good mood - jazz or pop, to enjoy - progressive or classic
There are exceptions. I don't like hip-hop, rap, r'n'b, acid, rave, hardcore (electronic), black metal.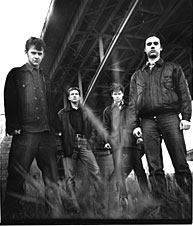 Once upon a time, when we were young and greenhorn, I was trying to do more than just listen to music. I was making it. Making as I could. Something electronic and industrial on computer. Later playing guitar in group. We were playing grunge and were happy about that endlessly.

I will list some artist from my home collection. Not all of them of course, just briefly.




Gary Moore
B.B. King
Jery Lewis
Pink Floyd
A-Ha
Beautiful South
Blackmore' Night
Garbage
Guano Apes
No Doubt
Nirvana
Nickelback
Suicidal Tendecies
Cardigans
Cranberries
Lenny Kravitz
Black Sabbath
Deep Purple
Led Zeppelin
Roxette
AC/DC
Jesus Chris Superstar
Red Hot Chilli Peppers
Faith No More
Ugly Kid Joe
Death
Cathedral
Autopsy
Pungent Stench
Paradise Lost
POD
Carcass
Candlemass
Annihilator
Nocturnus
Helloween
Manowar
Celtic Frost
Clawfinger
In Flames
Ministry
Obituary
Pantera
Kreator
The Gathering
Atheist
Rammstein
Slayer
Samael
Laibach
Megaherz
Pitchshifter
Stahlhammer
The Young Gods
Metallica
Sepultura
Iron Maiden
Rage
Edge Of Sanity
Therion
Dream Theater
Limp Bizkit
Linkin Park
Amorphis
Anathema
My Dying Bride
Pyogenesis
Blind Guardian
Bay Laurel
Crematory
Lake Of Tears
Dark Tranquility
Dreams Of Sanity
Oomph!
Theater Of Tragedy
Tiamat
Fear Factory
Megadeth
Napalm Death
Nightwish
HIM
Rob Zombie
Think About Mutation
Cemetary
Angra
Apocalyptica
Deftones
Evanescene
Morcheeba
Chemical Brothers
Aphex Twin
Tricky
Front 242
Underworld
Jean Michel Jarre
Astral Projection
The Orb
AFX
Banco de Gaia
Boards Of Canada
Global Communication
Autechre
Delerium
Fron Line Assembly
Enigma
Era
Enya
Kraftwerk
Moby
Propellerheads
KMFDM
Recoil
Fat Boy Slim
Massive Attack
Prodigy
Space
Tangerine Dreams
Future Sound Of London
Yello
Art Of Noise
Leftfield
Orbital
Daft Punk
Air
The Crystal Method
Apollo 440
Juno Reactor
Infected Mushroom
Oliver Shanti
Deep Forest
Combustible Edison
Paul Van Dyke
Milky
BT
Duke Ellington
Benny Goodman
Louis Armstrong
Frank Sinatra
Al Di Meola
Lee Ritenour
Liquid Soul
Gota
Montefiory Coctail
Manu Chao
Jamiroquai
Natalie Imbruglia
De Phazz
I like Vivalaldi and Ravel's "Bolero" especially.