Hello!
My name is Andrew. My last name is …. you'd better to check this domain name once again. I was born in Novosibirsk (Russia), I lived in Crimea and Kamchatka. I spent a lot of time in Brighton (UK) where I still have apartment and come back here from time to time. These days I'm traveling between US East & West coast and Novosibirsk, spending most of the time in Novosibirsk though. By the way if you want to wish me happy birthday the best day to do it is 20th of February.
I graduated NSTU (Novosibirsk State Technical University), Automated Control Systems faculty. I have MSc degree.
I specialize in marketing and B2B sales. Check "Professional" for more details .
For details on hobbies check "Hobby".
Sea (morning and evening breeze, the sound of waves breaking over rocks), summer, beer (my favorites are: Guiness, Hoegaarden, Tetleys ale, Stella Artois, Belgian Leffe and French Affiqem), good wine (a red one, also Muscat), sake, good cognac and vodka made on crystal mountain water)
I like to cook tasty and to eat heartily. I like Georgian, Chinese and Japanese cousins.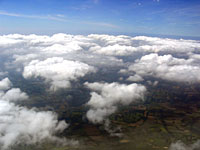 I like to travel along (you can find such amusing and exciting places you wouldn't find ever with guide). I like Oxford and Cambridge, Brussels. I like planes, take-off and landing, business class.
I like to smoke pipe, especially with Latakia or hookah.
I like fresh coffee or green tea, the others Chinese tea like Oolong or Pu-erh are good as well.
I hate Russian trains. I don't like early spring or late fall. I hate cigarettes smoke and fast-food.